Pricing
Monthly Fee
There is a monthly charge of £85 plus VAT for up to 3 users (Business owner(s) and clerks). This includes Hosting the System, Cloud Data Storage, Updates and Support. A charge of £10 plus VAT for each additional admin or clerk above 3 users.
We use Sage Pay or PayPal to collect/process transaction information

Incentive
You could earn a one off payment of £200 on each business you recommend, that subsequently purchases a Calendar Manager system for a minimum of 3 months (terms and conditions apply)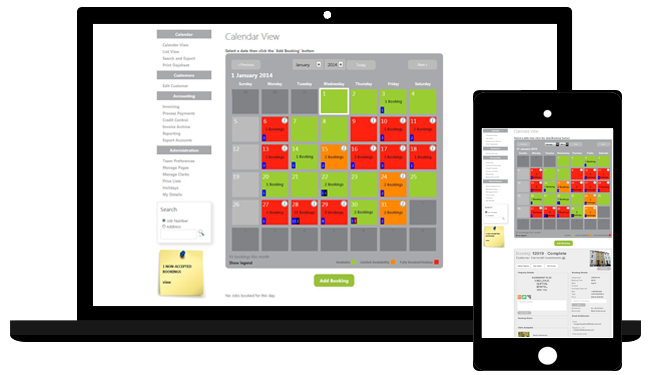 We designed Calendar Manager around an inventory business
We designed the Calendar Manager System to help us with our existing Inventory businesses. We were looking for a way to organise our bookings, including catering for the numerous amendments to bookings and also have an easy way to invoice our Clients and process their payments. So, Calendar Manager was born. We now couldn't work without the Calendar system and wonder how we managed without it! We hope you love it as much as we do!

Who's using Calendar Manager?
'Since starting QWERTY Inventories, I have found this booking calendar software invaluable! My clients, clerks and I find it very easy to use and the system allows us all to save time on phone calls and emails. There are so many features available which have been clearly designed by someone who knows the industry and the level of hard work involved. I would highly recommend this system as an affordable and efficient way of helping to manage a large workload and making the day to day running of the business much easier.'

Qwerty Inventories

We love that Calendar Manager is a dedicated management system for our inventory business, the system is fast and reliable with many benefits to our clients and clerks, the integrated invoicing and payment system saves us so much time and effort. Our clients positively love the system and makes their busy offices more efficient and its available to them 24/7'

Pinpoint Inventories

From the start the Calendar Manager team guided us though the system with its vast amount of features, its taken our inventory business from strength to strength, gaining a large customer base purely based on what the system can offer my clients and its ease of use

Inventories4Letting

Starting as a new inventory company many years ago the Calendar Manager system was an invaluable selling tool and helped us put our company on the map ahead of our competition, now having used the Calendar Manager system for many years both ourselves and clients couldn't work wthout it, our Clerks use it daily to check the status of their bookings and our Clients never need to worry about missing paper copies as every uploaded document is stored in The Cloud

Keystone Inventories
Frequently Asked Questions
1
Can I use my own company brand?
Yes, the system fully supports your business, you use your own website address and logo.
2
Do my clients have full access to the system with the 30 day free trial?
Yes, you, your clerks and your clients have full use of the system free for the 30 day trial period.
3
How does the invoicing system work?
Once the job is completed the invoice is automatically produced according to your custom pricelist, the invoice will be sent straight to your client via email
4
What if I am planning a holiday or need a day off?
Booking a holiday or day off is simple, just fill out the dates within the system and these days will be blocked to your clients with a customisable note letting your clients know
5
What does Calendar Manager do with my information?
Protecting your information

We will use your contact details to provide our services and inform you of changes to those services.
We will not pass your information to any third-party, without your consent, unless required to by law.

How We Use Cookies

We use strictly necessary cookies in order for the site to run. These are usually only set in response to actions made by the user in request for services, such as logging in or filling out forms.
You can set your browser to block or alert you about these cookies, but some parts of the site may not fully work.

We use the following cookies:

ASP.NET_SessionId cookie - This cookie allows our web servers to respond to your actions on the website such as signing up or browsing the website. The website wouldn't work for you without it.
Please see our payment security policy below:

Our Payment Service Provider is Sage Pay (formerly Protx) – the largest independent payment service provider (PSP) in the UK and Ireland.

Sage Pay provides a secure payment gateway (Level 1 PCI DSS), processing payments for thousands of online businesses, including ours. It is Sage Pay's utmost priority to ensure that transaction data is handled in a safe and secure way.

Sage Pay uses a range secure methods such as fraud screening, I.P address blocking and 3D secure. Once on the Sage Pay systems, all sensitive data is secured using the same internationally recognised 256-bit encryption standards.

Sage Pay is PCI DSS (Payment Card Industry Data Security Standard) compliant to the highest level and maintains regular security audits. They are also regularly audited by the banks and banking authorities to ensure that their systems are impenetrable.

Sage Pay is an active member of the PCI Security Standards Council (PCI SSC) that defines card industry global regulation.

In addition, you know that your session is in a secure encrypted environment when you see https:// in the web address, and/or when you see the locked padlock symbol alongside the URL.

So when buying through our site, you can be sure that you are completely protected.