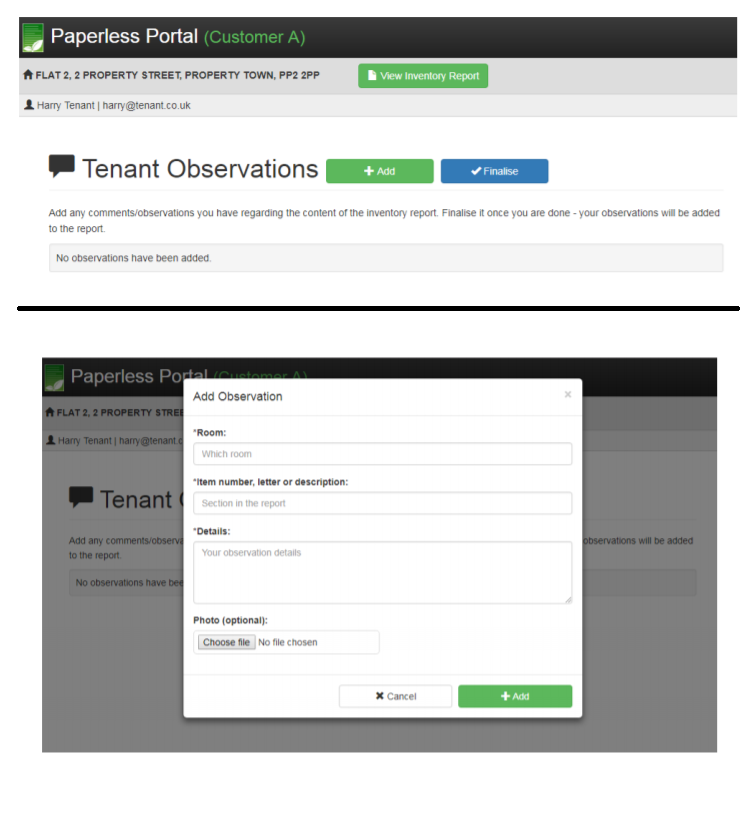 Integrated Paperless System
Tenants can add observations & pictures directly onto the original inventory report
Inventory automatically emailed to the tenant and subsequent reminders sent
Tenant log in and activity is recorded with time & date stamp directly onto the inventory
Combines all information into one document ready for end of tenancy
No waste of ink or paper, documents stored safely in the cloud, helping the environment
Saves clerks and clients time and effort
Calendar Manager has developed a Paperless Inventory System to help tenants add their observations and pictures easily onto the original inventory.
The inventory is emailed direct to the tenant on Check-In. The tenant has a customisable set time period to add any additional observations, which are automatically recorded directly onto the inventory to include a time & date stamp and without altering the clerks original type.
The activity log serves as a digital signature and helps as proof for any possible future dispute.
The Paperless Inventory System incorporates all information into one document stored safely in the cloud, ready for the end of tenancy. This reduces the need for paper and ink waste, helping the environment, whilst saving money, time and effort for clerks and clients.
There is also an option to enable/disable this paperless feature on a client by client basis, making the Calendar Manager system customisable for your individual business needs.